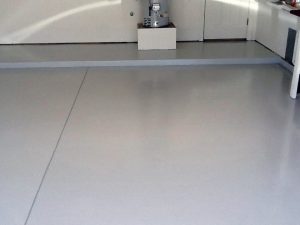 Keep your garage floor, your commercial space or multi-housing unit's floors like new for years to come—get epoxy flooring! As a full-service painting company in Albuquerque, NM, our contractors at Octavio's Painting, LLC, have the experience and equipment needed to provide complete epoxy flooring and refinishing services in your home or business. Epoxy flooring extends the life of your floors, saving you money and keeping your space looking great. For a FREE estimate on epoxy floor painting in Albuquerque, contact us today.
Benefits of Epoxy Flooring & Refinishing
Why get epoxy coating on your floors? Epoxy flooring enhances the aesthetic appearance of your floors as well as the durability of your floors.
Clean, polished look
Increases value of home or commercial space
Strong durability
Slip resistant
Stain resistant
Reflects hazardous materials/chemicals
To learn more about epoxy flooring, contact us to speak with an epoxy flooring contractor.