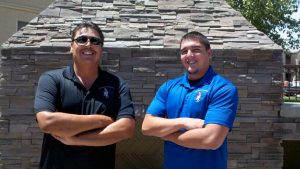 Octavio's Painting is a family-run company. We may be known as painting contractors, but that is just one of the things we do! As painters with more than 10 years of experience, we have the equipment and technical expertise to cover every aspect of your residential or commercial painting project, whether you need a simple repainting to the interior of your space or complex stucco repair. See all of our painting services to learn more!
What Makes Octavio's Painting Different?
We have won Angies List Super Service Award for the past 3 years. Our professional painters are committed to quality workmanship and competitive prices—and we don't just say that—we guarantee that we have the best price in town, and offer FREE estimates to prove it! Why should you choose Octavios Painting Company?
We have the best price in town, GUARANTEED!
FREE, accurate estimates on our work
Locally owned & operated
Our painters are licensed, bonded and insured
We only use the highest QUALITY paints
Another thing that sets our company apart is our close attention to detail. Before we begin, we take the time to carefully mask your fixtures, wood trim and floors. We use tape to create crisp, clean edges when we apply high-quality acrylic paint that gives your space a vibrant appearance. Once we're finished, we thoroughly clean the job site so your home or commercial space is neat and tidy after we leave.
For timely, hassle-free service in your home or business, contact us today for a FREE estimate!