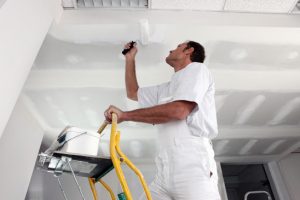 Whether you need to touch up a room or begin a new paint job from scratch, you can depend on Octavio's Painting, LLC, to provide you with accurate estimates, quality craftsmanship and competitive rates. Our commercial painters are licensed, bonded and insured to perform your painting project seamlessly and in a timely manner. Find out how we can enhance the exterior and interior of your commercial space—contact us to speak with a commercial painting contractor in Albuquerque and receive a FREE, accurate estimate on your project. We have the best price in town, GUARANTEED! Contact us for commercial painting: (505) 907-0772.
Commercial Painting Contractors
Want to make a good first impression on your clients and colleagues? Keep your business in tip-top shape with a brand new paint job. Our painting contractors can help you with every step of your painting project, from the planning stages through project completion. We'll help you decide which paints and stains will work best to enhance the look of your property, and follow through with meticulous attention to detail that does exactly that.
Interior Commercial Painting
We provide interior commercial painting services using only the highest quality acrylic paints, which come in a variety of sheens, including flat and gloss, as well as any color. One of the wonderful things about new acrylic paints is that it is washable, allowing you to clean up and scuffs, marks or damage, which will keep your interior paint job looking nice for years to come.
Exterior Commercial Painting
The high desert climate in Albuquerque is harsh on the exterior of your commercial building. Our commercial painting contractors provide exterior commercial paint services designed to enhance the appearance of your building and protect it from the elements. Many businesses prefer durable elastomeric coatings that seal stucco, staining and masonry, protecting them for years to come. We can help you find the right paint for you—just contact us for a FREE estimate.