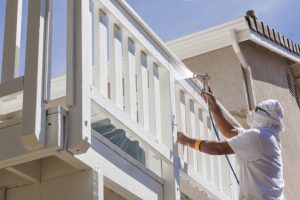 From simple stucco repairs to a brand new paint job, the professional painters at Octavio's Painting, LLC, have the experience and equipment needed to complete your exterior painting project from start to finish. Our licensed, bonded and insured painting contractors will help you enhance the appearance of your home or office with quality paint, close attention to detail and careful preparation of your project site. For timely, hassle-free improvements to your home or business, contact us today for a FREE estimate! We have the best prices in Albuquerque, guaranteed!
What to Expect
Searching for a reputable painting company? Choose Octavio's Painting, where we provide complete residential and commercial exterior painting services that increase the beauty and value of your building. From stucco repair to power washing, we do it all! When you contact us for exterior painting, you can expect us to take the following steps as we complete your project from start to finish:
Perform power washing to clean the exterior
Mask any landscaping, trim or fixtures as needed
Sand rough spots on your wood trim
Scrape and remove any peeling paint
Apply primer to bare spots
Perform repairs
Apply paint or elastomeric coating
Clean job site
Residential
When repainting the exterior of your home, our professional painters take the time to prepare the project site first, starting with power washing and proper dry time, and then masking your patio, walkways and roof. We provide repairs to your stucco, including retexturing, and we also repair the caulking on your windows before we begin your exterior paint job. We offer stucco and paint in a variety of textures and colors and can help you choose the one that's right for you during a FREE color consultation.
Commercial
Octavio's Painting makes the process easy, straightforward and hassle-free. Our professional painters provide complete exterior painting services, including power washing and graffiti removal, that are designed to enhance the appearance of your building and protect it from the elements. We can handle any exterior painting project, no matter how large or complex—just contact us for a FREE estimate!